Whilst the weather's been a bit cooler this week, the warm sunshine we've been enjoying of late has really helped to move things along in the veg patches. Everything's coming on leaps and bounds (including the weeds!) so we've been spending at least an hour or two in the garden most days just to stay on top of things.
The photo below is of the veg patch at the back of our polytunnel. Starting from the left-hand side there are a few rows of garlic, a double row of broad beans, some early peas (sown either side of the pea sticks we made from last year's Christmas tree), and a final row of broad beans (Gillian really likes broad beans). At the top of the photo you can see the cauliflower plants that we overwintered in one of the greenhouses and planted out a few weeks ago under some bird netting.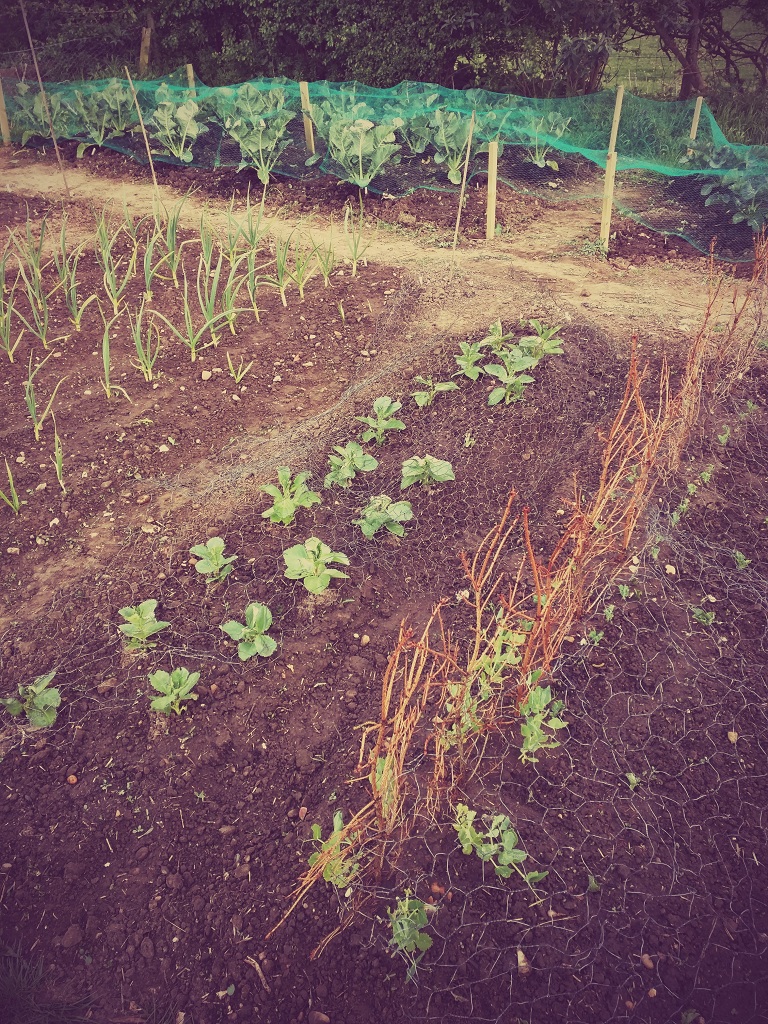 Slightly out of shot are a couple of rows of carrot and onion seedlings. These got off to a bit of a slow start – in hindsight the ground was probably a bit too cold when they were sown – but they're now coming through well after a few warm days.
After sowing a few more carrots earlier this week our first veg patch is now fully utilised so it's time to move on to the second. We cleared the plot near our shed a few weeks ago (you can see a 'before' and 'after' comparison below) and have already planted out a few rows of first early and main crop potatoes. We'll be adding to these over the weekend by planting out some more early peas and a few mange tout seedlings that are rapidly outgrowing their tray in the greenhouse.
Away from the veg patches we're in for a busy few days this week, but will do our best to post updates when we can. On Saturday we'll be collecting our five Oxford Sandy & Black weaners from a local breeder and settling them in. Later in the week (most likely on Thursday) we'll hopefully be watching our first batch of Aylesbury ducklings hatch out. If you'd like to watch them hatch then don't forget to take a look at our EggCam nearer the time.