How to make home-cured bacon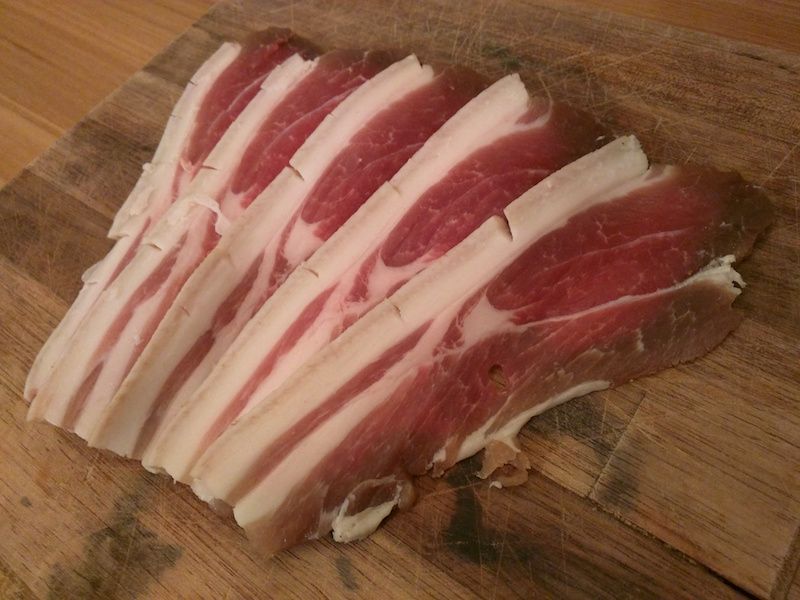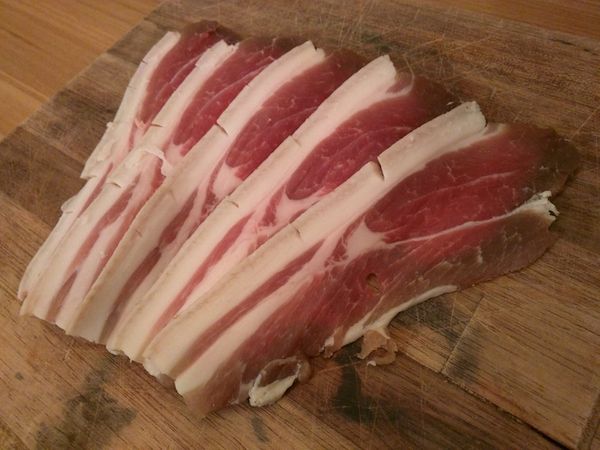 Now that the weather is finally getting colder a whole host of opportunities for home curing, smoking and air drying meat become possible. One of the easiest of these is making your own home cured bacon.
There's a few good reasons for making your own bacon as a smallholder:
It's easy to do.
The end result is simply delicious. Better than any bacon you can buy in a shop as you can tweak the recipe to your own taste.
While many butchers will happily turn a few cuts of pork into sausages for their smallholding customers, fewer of them will typically be willing to turn the meat into bacon.
The reason for the last point is fairly straightforward: curing meat requires time and space, two things that many butchers don't have sufficient quantities of to be able to offer their cold storage to other people.
Take all of the points together and curing your own bacon becomes an ideal thing to try. Even if you don't rear your own pigs it's worth buying a kilo or two of top quality pork belly from your local butcher just to try the taste of home cured bacon.
What you will need
2.5kg pork belly, deboned, skin on
60g coarse salt
40g fine salt
40g dark muscovado sugar
3 bay leaves
1 sprig of rosemary, leaves picked
A few sprigs of thyme*
1/2 tbsp black peppercorns
1/2 tsp saltpetre**
* Feel free to experiment with your own combination of herbs for flavouring. Replacing the thyme with half a dozen juniper berries works well.
** Saltpetre is needed as it kills botulism spores and helps to preserve the colour of the meat; however, it's not widely available as it's one of the key ingredients of gun powder(!). If you're looking for a supplier then do a search for 'food grade' saltpetre. We bought ours from SausageMaking.org and have had no issues. If you don't fancy using saltpetre then you could also try Prague powder or 'curing salt' but you'll need to follow the packet instructions as different quantities will be required.
Dry cure method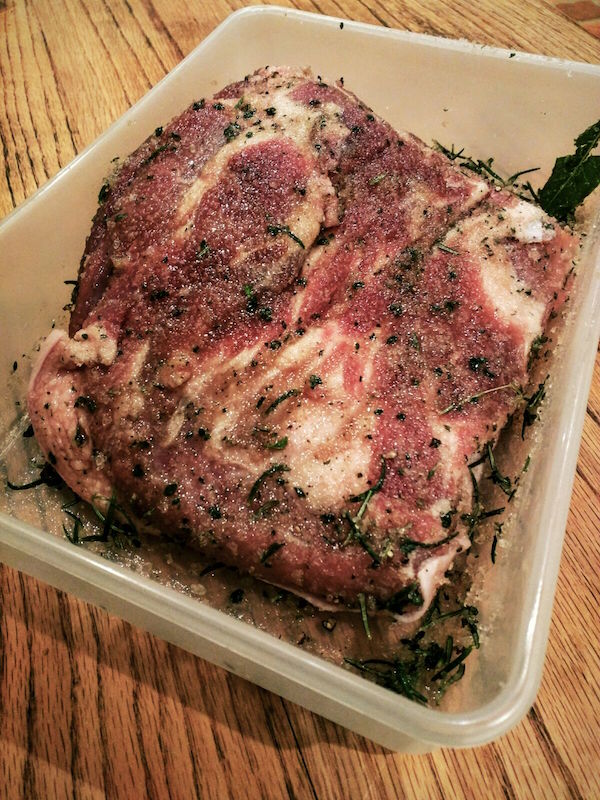 Once you have your ingredients to hand it's incredibly simple to make bacon.
Grind up the herbs in a pestle and mortar and mix them into the salt along with the sugar and saltpetre.
Spread half of the cure mix in the bottom of a non-metallic container (tupperware is ideal).
Put the pork belly skin side down in the container and rub the remaining cure mix into the meat. It's important that the cure mix is spread evenly.
Cover the container with cling film and put it in your fridge for five days.
Check the pork once per day, draining off any excess liquid, turning the joint, and rubbing in any spare cure mix.
On the sixth day remove the joint from the fridge, rinse off the cure mix and pat dry with kitchen roll. If you're really keen then you can try some of your bacon at this point but it will benefit from being hung for a little while to let it dry and allow the flavours develop.
You can hang the meat for as long as you want, but we would recommend leaving it for at least 24 hours. We put ours on a meat hook, wrap it in a square of cheese cloth and hang it in our garage for a couple of days when it's cool enough (i.e. below 5 ℃).
Once your meat has hung for a little while you now have your own 'green' bacon! You can cold smoke the bacon at this point or go ahead and slice it up to your preferred thickness. If you're aiming for anything thinner than gammon slices then we'd suggest putting the joint in the freezer for a couple of hours first and using the sharpest knife you can find.